Promote your events by enabling speakers to share videos with their connections
SPEAKERS ARE YOUR MARKETING PARTNERS
Event managers and speakers have a symbiotic relationship.  A well-attended event provides valuable exposure to speakers and helps reinforce their credibility and influence within your industry or special interest.  And speakers can be a valuable source of promotion for your event.  For this reason, a unified marketing plan that involves speakers and their connections is important to both the event manager and the speaker. One of the most common types of co-promotion is sharing images about the event, but this fails to leverage the most important skill of a speaker — speaking!  The best way to involve speakers is to feature them in an event's video marketing content. Here are some key things to keep in mind when working with speakers to create video marketing for your event. 
YOUR EVENT STARTS NOW
Building awareness and excitement begins months before your event. 56% of survey respondents report that they register 3 to 6 months prior to an event[1]. Your promotion needs to extend over that same timeframe to maximize awareness, registrations and engagement.
KEEP IN MIND THE 3 E'S: EDUCATE, ENTERTAIN AND ENGAGE
A key component of pre-event promotion is leveraging your speakers to help spread the word. You assemble your roster of speakers because they help educate, entertain and engage attendees. 92% of people say they choose to attend a conference or event because of the opportunity to learn[2]. So start educating now! Get speakers to speak on your behalf to start the conversation, engagement and excitement around your event.
10 tips for maximizing event promotion by speakers:
Put your speakers in the spotlight.

Showcase their expertise. Helping them promote themselves helps you promote your conference.

Make it easy for them.

Speakers are short on time. Make it simple for them to contribute and share content. Your goal: require five minutes or less of their time.

Make it compelling.

We live in a visual world. Video and eye-catching graphics provide the most impact and conveys the most information.

Make video promotion an up-front expectation and commitment

. When you line up speakers and panelists make co-promotional videos part of your agreement. Provide incentives for them to follow through.

Create a speaker content calendar.

Like any good content marketing plan, there should be a constant flow to establish and build interest. Help speakers publish videos at agreed-upon intervals that mesh well with your overall marketing strategy.

NewsJack.

In all likelihood your speakers are tracking key trends and have unique perspectives on how they are impacting your attendees. Get them to comment on these trends as they happen. Be timely and topical.

Maximize Sharing.

Focus speaker-created content on social networks where sharing and discussion is encouraged. LinkedIn, Twitter and Facebook are the obvious choices, but there are often industry-specific newsletters, blogs, chats, and groups.

Have an integrated plan.

You will be communicating with speakers and panelists about a variety of logistics and topics. Make sure that video promotion is always integrated into the mix.

Use Moderators as facilitators.

In many cases panelists are coordinated by a moderator. Use that person's expertise and interactions to help develop topics that are appropriate for the panel's presentation but also best for promotion. Ask them to create a list of questions that highlight the expertise of the panel and remind speakers about the need to create and share videos about their panel.

Invite attendees to contribute too.

Narrated slide decks are boring. Discussions are engaging. Collect questions and commentary from people who will be in their audience. Imagine that the Q&A session starts right away. Make that a key part of your event vidceo marketing to gain exposure and generate interest.
AUTHORITY IS INFLUENCE.
Speakers are an important conduit for your promotional efforts because they have the respect of their peers and colleagues. They are micro-influencers; they have the attention and trust of your audience within a narrowly defined field and therefore a much greater influence on the decision to attend your event. To maximize attendance, amplify the voice of your speakers.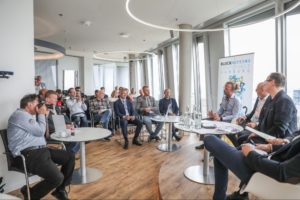 ---
Want to learn more? 
---
And here are some examples of how speakers are featured in video marketing for events with videos created with AnswerStage:
Some of the industry insiders you'll meet at #edge2022 in Nashville: Steve Raetz of @CHRobinson, Charlie Saffro of CS Recruiting,
Shan Muthuvelu of @UCBOS1, Chet Richardson of @KodiakRobotics and Jay Lau of @PimaCommCollege pic.twitter.com/HTybQzYm1d

— AnswerStage (@answerstage) September 19, 2022
Join Jim Lane of Redbank Advisors at #ibie2022 for his session about what's crucial for success in 2022 and beyond. Jim and other #bakingindustry experts will be in Las Vegas for the exposition from Sept 17 to 21. #VideoMadeWithAnswerStage pic.twitter.com/iGFSy8xzjE

— AnswerStage (@answerstage) September 1, 2022
Today at noon ET: #webinar hosted by @bobbiec of @WomenInno "Ask an Event Manager: Coordinated Event Promotion" with Emily Golding of @mdgsocial and @rustyw of @answerstage pic.twitter.com/FNyPHVYcBK

— AnswerStage (@answerstage) July 13, 2022