Bad Hair Day? Messy Room? Reluctant to Go On Camera?  Camera-phobia is all too common.  Here are some tips for calming nerves and maximizing the number of people who participate in your video marketing efforts.   
In the world of content marketing, video has become an increasingly important medium. According to a recent survey, 85% of businesses use video as a marketing tool, and 92% of marketers say that video is an important part of their strategy. However, not everyone feels comfortable appearing on camera or is otherwise ready for the "on air" sign to start blinking. That's where Answerstage comes in. With AnswerStage, you can create great-looking video marketing content without requiring people to appear on camera. When your goal is to create dozens or hundreds of videos to help you collect testimonial videos, increase member retention, or build a sense of community for member marketing you want to maximize the number of responses that you receive. 
Before getting into the specifics of alternatives, it's worth pausing for a moment to note that the best, most compelling format for a video includes people. Smiles. Gestures. Facial expressions.  Ums and ahs – the whole bit.  That's often what makes a video feel authentic and relatable.  It's common for people to be self-conscious but the truth is more personality is conveyed by talking on camera.  It's like many things that are initially uncomfortable.  The more someone does it, the easier it becomes.  Sometimes you just need to provide all of the reassurances required to press "record" and go through it.  
Here are ways to reassure people: 
Emphasize there is always a safety net.  People submitting responses can review their recordings before they submit them. If they're not happy, it's easy to click "re-do" and record another take.  

Provide coaching tips.  Help people understand that proper lighting, framing, sound and eye contact will make their videos look better. 

Reassure them that perfection isn't the goal.  Their unique style and character is what makes the video interesting.  Most people worry about things that others won't even notice or could even find appealing.  No one is perfect.  

Include a link to an example video so people understand the full context of how their response will be transformed with branding and other enhancements to make their videos look much better. 
You've done what you can to provide reassurances and emphasized all of the benefits of going on camera, but some people are still not comfortable with the lighting, the clutter in their room, or the  tuft of hair sticking out behind their ear.  AnswerStage can still help you make great videos.
Now anyone can create high quality video in any setting and in any condition using the new audio-only option for recording. They just click the mic icon rather than the camera icon and they can make the switch from "TV" to "radio."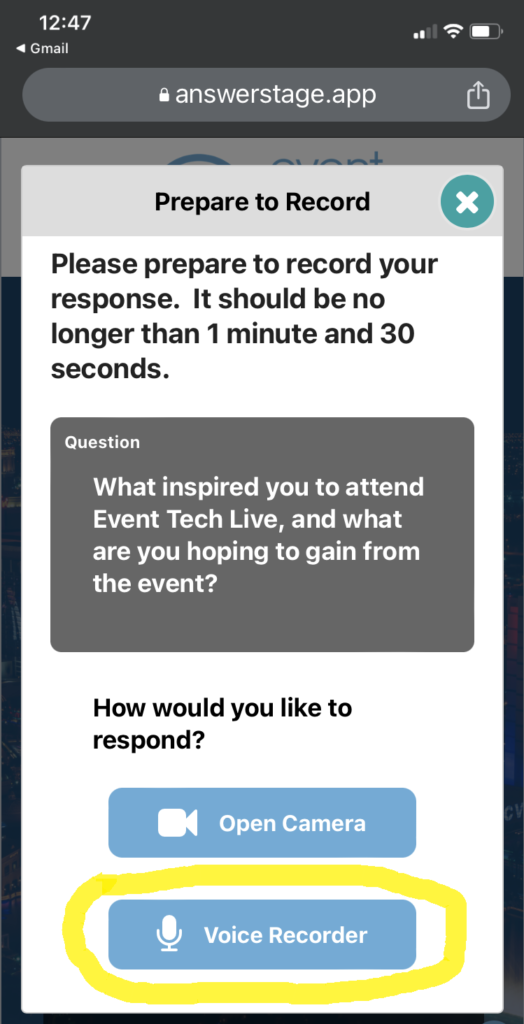 Here's how we transform an audio-only response into a visually compelling video:   
Audiograms: 
Audio responses are displayed with an "audiogram" – a colored wave that is synchronized with the speech. This makes it easy for viewers to follow along with the audio track, even though they don't see a talking head. Plus, audiograms are visually engaging, which can help hold viewers' attention.
Profile Photo, Name, Title, and Contact Information
When you use Answerstage to create video marketing content, the person's profile photo, name, title, and other contact information are displayed on the screen. This helps to establish credibility and presents them in a way that's similar to being a guest on a program or featured speaker at an event. 
Animations and Branding to Make Your Video Visually Compelling
Answerstage offers a range of animation and branding options that can help make your video marketing content visually compelling. You can add your logo, choose from a variety of backgrounds, and even add custom Intro and Outro segments to make your videos look professionally produced. 
Horizontal Audio-Only Video
---
Video marketing is an essential part of any content marketing strategy. However, not everyone feels comfortable appearing on camera – for whatever reason. Answerstage offers an alternative for anyone looking to create great-looking video marketing content. With the audiogram feature, profile photo and contact information display, animation and branding options, and the ability to record audio-only responses, Answerstage is a powerful tool that can help you create engaging and effective video content, no matter what. 
One final note:  the audio-only response feature is provided at the discretion of AnswerStage clients.  For example, people invited to create a video for Innovation Women won't see the audio-only option. Innovation Women uses AnswerStage to create Speaker Profiles.  Companies review these videos as they search for speakers for their in-person and virtual events.  So, it's essential to show how someone appears "on camera".  If you want to be certain that the full personality of the talking head format is captured for testimonial videos, membership marketing, thought leadership and other applications where authentic personality is key, then you can simply not enable the audio-only feature.  In that case, be sure to use the reassurances noted above.  These tips should help you maximize the response and create great video marketing featuring dozens or hundreds of interesting, charismatic, authoritative people. 
Want to learn more?  This post on Medium by Lori Young includes more reasons why you should make video marketing a priority and she includes some other options for creating video content without appearing on-camera. 
About AnswerStage
AnswerStage makes user-generated video marketing easy and cost-effectively.  Just send a link. And then automatically collect responses, produce great-looking branding videos and share them on social networks.   AnswerStage is used by leading companies and associations to promote events, reinforce the value of membership  and collect testimonial videos.